Day 12: Advent Calendar
Day 12 of the #JusticeforLB Advent Calendar features Prof Chris Hatton's keynote lecture How does research have an impact on the daily lives of people with learning disabilities? to the Seattle Club Conference in Canterbury yesterday.
In his presentation Chris discussed how research can, or could, have an impact on policy and on the lives of people who are learning disabled.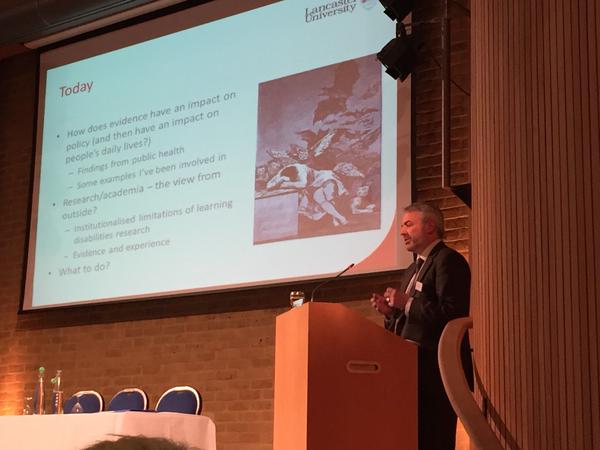 pic via @LastDaysofLifeR on twitter
Chris considered whether #JusticeforLB and the #LBBill can be viewed as a 'charismatic' approach to bringing evidence to ideas, that are in turn brought to influence on public policy. He also mused on the relationship between evidence and experience: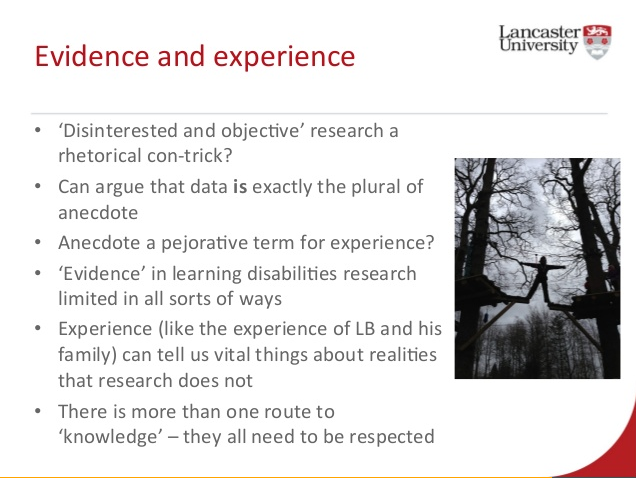 Finally, for this advent calendar we asked Chris, or The Hatt as he's affectionately known in the Justice Shed, to share what the #JusticeforLB campaign meant to him personally. This is what he said:
'JusticeforLB has opened my eyes, given me heart, and welcomed me as a part of a positive campaign to fundamentally reset the status of people with learning disabilities in our society. That, and the chance to look at health service Board papers in great, great detail…'
Not sure that we could ask for more than that! On which note, if you are reading this and agreeing or disagreeing with Chris, we'd love to hear from you, especially with regard to what the campaign has meant to you. Thank you.
4 responses to "Day 12: Advent Calendar"