Unanswered questions #SouthernHealth #JusticeforLB
The extraordinary Board Meeting at Southern Health took place yesterday, extraordinary by name and extraordinary by nature. In true Sloven style there was lots of talk about their intentions to 'engage people' and 'work with families' without any consideration given to that before the meeting.
The meeting started with the Chair apologising for the time and location of the meeting (08:30am in the middle of nowhere near Southampton) and acknowledging some people must have been up at the crack of dawn to make the meeting (5am was the average for those coming from Oxford). Of course if Southern Health really cared they'd never have considered holding a meeting at 08:30 on a Monday and in a room large enough to fit the 50 odd people squeezed in at the back of the room and around one side.
Anyhow I digress. Despite repeated requests to change the order of the agenda, the Chair, Mike Petter insisted on sticking to what was planned and not allow the public to ask their questions first. He shared at the start that he didn't intend to keep to time, so the hour long meeting overran by 90minutes. There were a number of questions asked, including some very articulate challenge from LB's brother Tom. You can see the BBC Coverage and Tom's question here: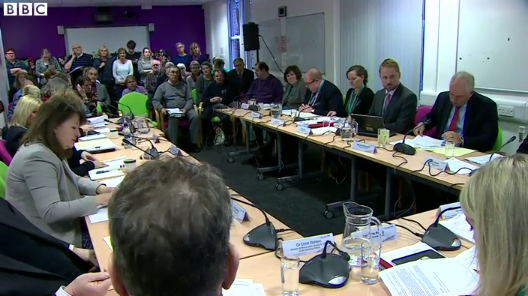 I'm not sure anyone really got a satisfactory answer to their question, but towards the end of the meeting it felt like the questions were being processed without any attempt to answer. All the questions deserve a proper answer, and we've highlighted just two questions below, the first from John Hutchinson/Hutchison:
Chair, three members of this Board have been carrying a key set of responsibilities for a long time. I found a newspaper article mentioning the three names as far back as 2011 but the unfortunate topic they were covering dated much further back.

You, Chair, carried Board responsibility for quality both in Southern Health and Hampshire Community Healthcare for many years; and yet over the years, the quality of care has repeatedly been called into question.

Similarly, Katrina Percy, the Chief Executive, had had a leadership and communications role for many years. Her leadership has repeatedly been found wanting and her communications skills are consistently appalling.

And, for a similar time, Sandra Grant, Director of Workforce Development, has had responsibility for the motivation, education and training of staff which has clearly not been effective. She also controls the production of rules, policies and procedures but these seem largely to have been ignored.

When will this Board purge Southern Health of the pernicious influences of Hampshire Community Healthcare? 
The response to this question was a reiteration that the Board would not be resigning. The failings of the leadership trinity of Petter, Percy and Grant were skipped over too.
The second question was from Sarah Snow:
For a parent of a young person with autism and learning disabilities, the Mazar's Report reads like an apocalyptic nightmare.

Throughout this process, individuals and families have been treated with institutional, and sometimes personal, contempt. Mr Berryman will know what I am talking about.

You have in fact now created a situation where the services that people may need are no longer accessible, because individuals and families do not have confidence in the quality of the services provided – and are therefore choosing not to use them. This cannot be tolerated. 

A sense of responsibility and accountability is now required. And we are not talking about the development of new and more complex spreadsheets.  The current board needs to stand down as a matter of urgency and allow competent, skilled and committed individuals with the public's confidence to take charge.
No response was offered to Sarah's statement, suffice to say (again) that the Board would not be resigning and that they had full confidence in the Executive Team. This despite the Board members refusing to sign off the action plan because it was not sufficiently detailed or carefully prepared (typos, lack of detail, usual slovenly ways).
Additionally there was seemingly little concern about the fact people who need to use services would rather stay away from them, because, to quote Paul from My Life My Choice 'I'd be worried about coming out in a box'. Sarah's question and the comments of many members of the public from My Life My Choice and elsewhere, really require urgent attention.
Lives are still at risk due to the ongoing failings and contempt at Southern Health.
Maxwell from the Southampton Echo did a good write up of the meeting here. We are at a loss of what more we can say or do, given the utter contempt of the Board at Southern Health. As ever, all ideas are welcome.
5 responses to "Unanswered questions #SouthernHealth #JusticeforLB"