What is unannounced about an announced inspection? #JusticeforLB
Care Quality Commission were visiting Southern Health today, to conduct an unannounced inspection.

Except this unannounced inspection was announced in the Houses of Parliament, discussed at the Southern Health Board meeting, referred to by Monitor and subject to extensive coaching and preparation at Sloven Towers.
We're a bit confused in the Justice Shed about how much more evidence of failure is required. So far there have been three independent investigations: Verita 1, Verita 2 and Mazars. All showing exceptionally poor leadership.
Then there are the CQC inspections, the first in Nov 2013 (a couple months after LB died), you can read here, but if you're short for time this front page nearly summarises the standard of care for learning disabled people and the failings at Southern Health: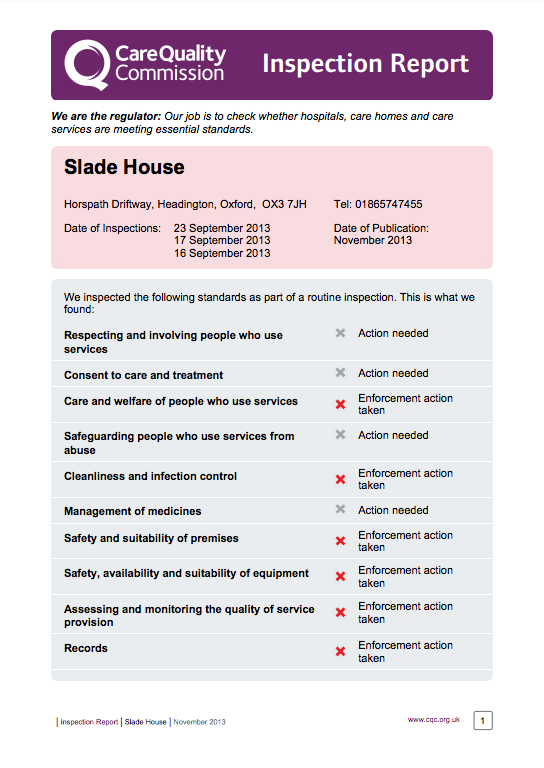 On the STATT unit, we spoke with three of five people there. We asked them about the assessment, treatment, care and support they received. One person told us they felt unsafe and uncared for, another told us they "hated it" there. The third person said "It is okay."… Whilst we were there, up to four staff mainly worked on administrative tasks within their office, with one member of staff out on the unit. Over the course of two days, we saw few social or therapeutic nursing interactions with people who stayed there. There appeared to be an impoverished environment with little therapeutic intervention or meaningful activities to do.
The STATT unit was eventually closed, too bad to rehabilitate, closed down so the building could be sold to pay off the financial deficit (maybe). A year later, in October 2014 there was a whole Trust inspection. Southern Health volunteered for this inspection and despite all their hard work, rehearsals, mock inspections, role plays, a CQC inspectors checklist (much like getting the answer sheet), toolkits and scripts (pretty much everything and anything you could imagine, a vast investment of time and resource), they were still rated as Requiring Improvement.
On the 17 October 2015 an inquest jury, having sat through two weeks of evidence, concluded that LB's death was due to neglect. You can read their full jury findings here but they had no difficulty in identifying the failings in care and the systems in place at Southern Health. The Coroner issued a Prevention of Future Death report requiring Southern Health to make changes.
So that's three independent investigations, numerous CQC reports and a full jury inquest.
Still, the Secretary of State for Health decided that CQC needed to return and re-inspect Southern Health again. No doubt they have spent weeks poring over their toolkits, like this one: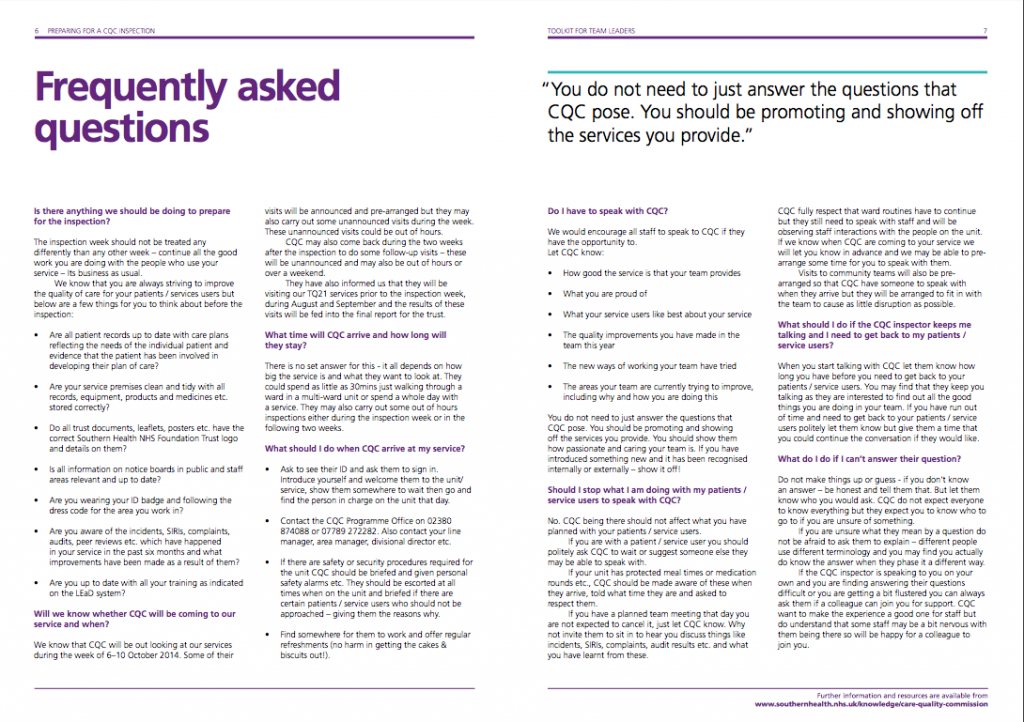 Note the focus on showing off; business as usual but check the records, cleanliness, dress code and death reporting (although surely if business as usual did that no reminder would be required); and 'no harm in getting the cakes and biscuits out'.
They shouldn't have any worries though, after the November 2013 inspection they responded with an action plan (what else) that included this: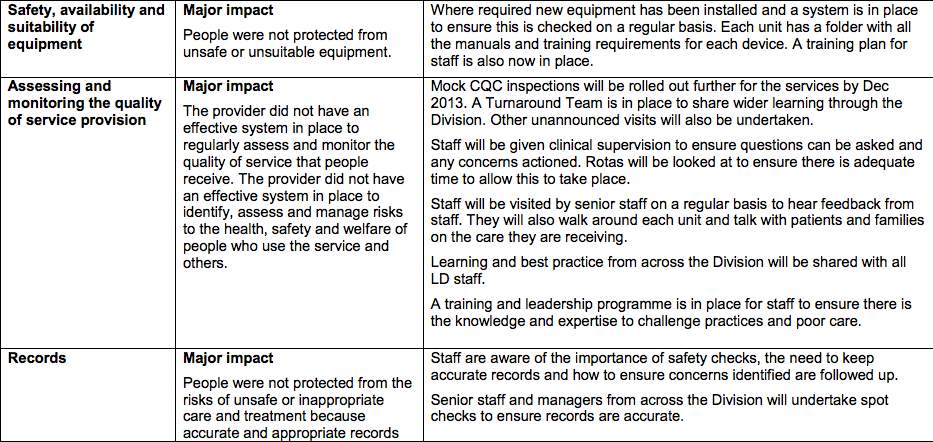 So they've had over two years of focused activity to improve things. Surely, this unannounced CQC inspection that we all know is happening, won't find anything untoward?
A week or so ago a cheeky little leaked email landed in the Justice Shed (thank you to those staff on the inside who retain a sense of candour and decency in the face of such slovenly failings). This email contained internal briefings, the internal CQC action plan and updates about progress in areas CQC are likely to scrutinise.
One area that Southern Health struggle with is staff recruitment and retention (which really isn't any surprise given how they treat them). This in particular is addressed:
The other thing I would like you to do is to check what the annual leave situation is for those last two weeks in particular as we want to ensure that we have as many staff available as possible… this will be particularly important for Willow given the current challenges with staffing, can we see how many of our substantive staff are working and really push to ensure that we have all shifts covered.
Not sure what it looks like to you, but here in the Justice Shed it looks a little like people are performing at being fully staffed, sticking posters up and playing at improvements. Another area that CQC will be looking at is investigations into unexpected deaths. Southern Health have had the Mazars draft since September 2015 so have had plenty of time to respond and appear to have things under control. Indeed at the extraordinary Board meeting last week (11 January) the reports stated:
The Trust is presently 47% compliant to this requirement [Reporting to StEIS should be undertaken within the 2 working days of notification as required by the national guidance]. There is ongoing monitoring of this key performance indicator supported by the central investigation team.
Yet our cheeky leaked email had something else to say:
As well as reviewing the action plans from the inspection in 2014 they [CQC] will also be focusing on our new Policy and processes for reporting and investigating deaths. There is concern that we still have a lot to do across the Trust to embed these processes – it was reported today that only 20% of 48 hour panels are happening within the appropriate time scales and we still need to improve the quality of reports both IMA's and SIRI's.
Hmmmm, so where does the truth lie? 20% compliant (as shared internally with staff) or 47% compliant (as shared with the public)? How will Southern Health ever improve if their focus is on performance?
Given the overwhelming amount of evidence of failures already we've no idea why another inspection is required, or what it is truly meant to uncover, but if the Sloves can't perform for one day, in an (un)announced inspection, surely someone will step in and do something?
Lives are at risk and action plans, posters and staff cancelling annual leave isn't going to fix it.
3 responses to "What is unannounced about an announced inspection? #JusticeforLB"