Full jury findings – Connor Sparrowhawk #JusticeforLB
Conclusion of the Jury as to the death
Connor Sparrowhawk died on 4 July 2013 at the Southern Health NHS Foundation Trust Short Term Assessment and Treatment Unit (STATT), Slade House, Horspath Driftway, Headington, Oxford, OX3 7JH. No cardiac activity detected and CPR being carried out, with death pronounced at the John Radcliffe Hospital.
Connor Sparrowhawk died by drowning following an epileptic seizure while in the bath, contributed to by neglect.
Connor's death was contributed to by very serious failings, both in terms of systems in place to ensure adequate assessment, care and risk management of epilepsy in patients with learning disability at STATT. And in terms of errors and omissions in relation to Connor's care while at the STATT.
Contributory factors include:
a lack of clinical leadership on the unit
a lack of adequate training and the provision of guidance for nursing staff in the assessment, care and risk management of epilepsy
a very serious failing was made in relation to Connor's bathing arrangement
Other failings included:
the failure to complete an adequate history of Connor's epilepsy
and complete an adequate epilepsy risk assessment soon after admission
Opportunities were missed to undertake completion of the above thereafter.
Evidence also exists of inadequate communication with Connor's family and between staff regarding Connor's epilepsy care, needs and risks.
Q1 Was there a failure in the systems in place? 
Answer: Yes
'Adequate training'
Considered inadequate due to the following:
too few staff trained in epilepsy on the unit
training provided is limited and insufficient
lack of leadership in terms of training and professional development on the unit
change in shift patterns reduced the opportunity for training, which was previously undertaken in handover periods
'Adequate guidance'
epilepsy toolkit wasn't provided to staff on STATT despite being available and being in use elsewhere within Southern Health
no apparent proactive support and guidance from the specialist epilepsy resources available to the STATT team i.e. from the community team
lack of guidance from the clinical leadership on the unit
Q2 Was there any error or omission in Connor's care at any time after his admission to the STATT on 19 March 2013?
Answer: Yes
Bathing arrangements should have been undertaken on a sight and sound basis
Within the week after admission the following should have been undertaken:

staff obtain an adequate history of Connor's epilepsy history
staff carry out an adequate risk assessment in relation to Connor's epilepsy informed by history information provided

No specific information was sought from Connor's family on bathing arrangements
Lack of appropriate follow up/communication with Connor's family following suspected seizures.
Missed opportunity to create an epilepsy risk assessment not done following admission
General lack of 1 to 1 communication with Connor's family outside of clinical team meetings resulting in lost opportunity to involve family in care planning
Lack of leadership on the unit. Resulting in lack of clarity of accountabilities and responsibilities
After suspected seizures, the clinical team failed to identify the lack of an epilepsy management plan and epilepsy risk assessment being in place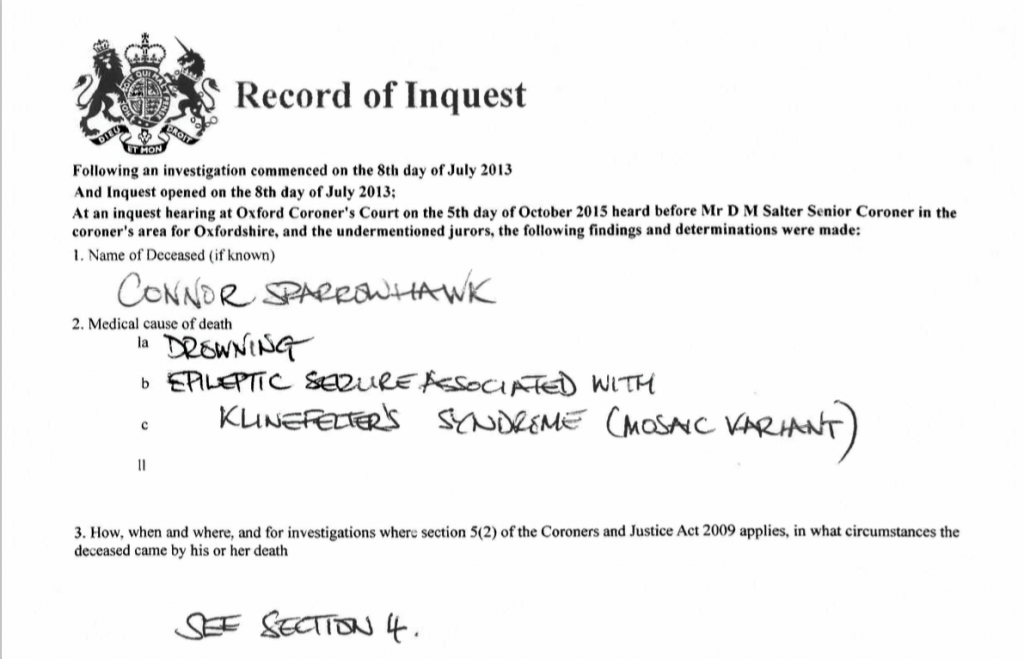 20 responses to "Full jury findings – Connor Sparrowhawk #JusticeforLB"